Toolroom Records & The Art of Collaboration
There is perhaps no phrase more ubiquitous amongst the producer community than the following…
"Let's collab!" With the rise of all in one production suites, an increase in consumer computing power, and a young generation taking to music making like a fish to water, it has become easier than ever for anybody to become a music producer.
Better yet, the work that can be done from a single laptop is right on par with what is coming out of London's finest studios. For example, American producer John Summit took to Twitter recently to report that his Beatport #1 "Off The Deep End" was made in the most glamorous of locations: his parent's basement.
i made the number one record on beaport in my parent's basement lol

— John Summit (@itsjohnsummit) July 6, 2020
If you're wondering why there are so many people producing music today, here's why!
The point here is not to bash young producers, not by a long shot. Instead, we simply aim to point out that music production has become more streamlined than ever.
And as a result, so has working with others.
Today's music scene is vastly different from that which existed as little as 10 years ago. Today, we have countless young producers buzzing about, eager to show others their sessions, get feedback, and collaborate whenever (and wherever) possible. What once involved trips overseas can now be done with a short email chain and a $10 a month subscription to Dropbox. In fact, two producers need not have even ever met to work together at this stage in the game. All things considered, there are countless reasons why producers still continue to partake in the time-honored tradition of collaboration.
Why Collaborate?
As Electronic music has developed, so has the ability for artists to meet, network, and grow alongside one another. While there is something of an archetype of the lone wolf producer who spends his/her days locked in the studio by themselves, the reality is that our genre is far more of a community than many may think.
Every producer is different.
While some are classically trained musicians, others are skilled sound designers. Hell, some producers aren't even particularly great at producing. But, they sure do have a knack for finding some of the catchiest samples imaginable to create hooky, earworm tracks.
The truth of attaining skill at anything in this life is that everyone will have natural strengths and weaknesses. Collaborating with others allows you to not just benefit from the talents of your production partner, but also to learn and grow as an artist.
Beyond calling upon help to compensate for some areas you may be lacking in, you can see that collaborating is not reserved for musicians alone.
Collaboration is a way of life.
Ever had chips and curry? How about General Tso's Chicken? Maybe a Jagerbomb or five?
While we don't suggest consuming any of the above in excess (your loved ones can thank us), perhaps you can see how interesting it is for people of different backgrounds to join forces, work together, and have something to show for it in the end.
On a more serious note, it is accepting, open-minded communication between people of different cultures that have created the unity that humans benefit from today. It is the fact people from all corners of the globe can come to the U.K. to seek refuge and prosperity that has made our high streets vibrant, our food spicy, and our culture colourful. We apply these same values to both our artists, and our creative process as a whole here at Toolroom.
Not all collaborations are done in the open.
Perhaps one of the best-kept secrets of dance music is that there are often many hands that all go into making one big record. Take, for example, any pop track that you may hear on the radio. Did you know that up to ten different producers will often have a hand in finalizing a charting record? That's right. Ten different producers. Can you imagine? Sure, our genres may be different, but artists are artists, especially when it comes to producing. Even if it is as simple as every producer making one small tweak to a track before it is finalized, that record then becomes a product of the soul and energy of each of the artistic minds involved. This can be something as simple as changing a few notes of MIDI, adjusting compression settings, or even reworking the kick.
While there may be just one name on a record, there is a good chance that your favorite producer may very well have enlisted help from others. In fact, we can look to none other than Mark Knight himself for inspiration on this topic: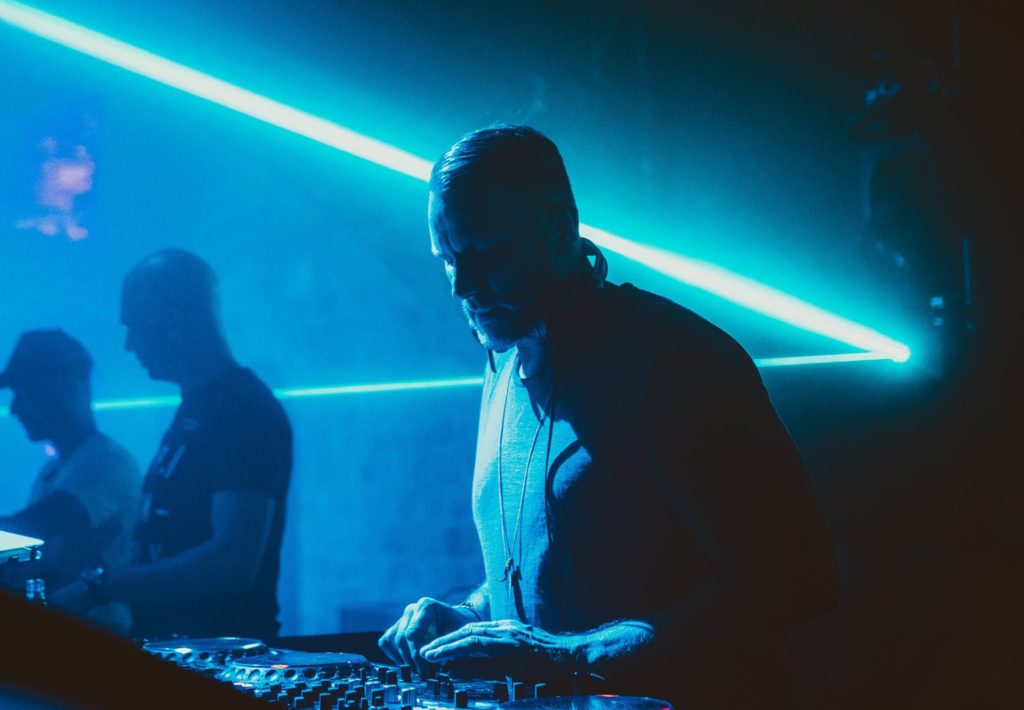 "Some of my favourite moments in the studio have involved collaborations. I've been fortunate to work with some supremely talented producers and musicians over the years, from the likes of Underworld, Skin, Green Velvet, D.Ramirez, and many more. Working alongside other artists can bring a new dynamic to your productions. And, when it goes well, it can lead to new creative heights for you as an artist." – Mark Knight
Let it be known: collaboration is at the very spirit of the Toolroom ethos. Not only do we encourage our artists to collaborate with one another, we thrive on it.
Picture this: the head of a record label with over 15 resident artists pulls names out of a hat at random. Each name is assigned to collaborate on a track, regardless of the style of music they make. While this might sound like the plot of a game show, it was precisely how both the T1 and T2 compilation albums were created here at Toolroom HQ…
Leaving who will work with one another purely to chance has a way of breaking barriers and creating songs that would have never existed otherwise. In some ways, the world of Electronic music is a high school lunchroom, where everyone will sit with their own little clique.
In other words, Tech House producers flock together talking about festival slots, Techno DJs (who are probably wearing all black) shrug off the latest trends. Of course, House purists sit around wondering, "what the hell happened to the good old days of music." You get the picture.
And yes, in an environment like this, two seemingly random producers working together isn't always something that occurs naturally. But when it does, you can be sure that something special is brewing.
Alex Preston & Siege – "Back To The Beginning"

Take, for example, the mash-up of Toolroom newcomer Alex Preston & 2019 label inductee Siege, "Back To The Beginning". It's not every day that a live instrumentalist with a penchant for disco teams up with a hard Tech House producer like Siege.
Yet it is the T2 compilation album that's birthed just this…
What has resulted is perhaps one of the most exciting records we've released all year, "Back To The Beginning," is a summer-y, disco driven jam that's perfect for the terrace parties that have replaced this year's club nights in the era of COVID-19. Best of all, the track is built on a paragon House rhythm that's sure to breathe life into any dance floor it touches.
Further, we can look back on T2's 2015 predecessor, T1, as another excellent example of creative collaboration at its finest. After we launched our #RESET campaign, reaffirming our role as a proud purveyor of cutting edge House, Tech House, and Techno, it was time to let the let the light shine on our 2015 roster, which then included the chart-topping British DJ duo, Prok & Fitch.
What better way to help break an act into a different scene than by assigning them to work with the bossman himself?
What resulted was a big room, spacey club banger that helped solidify both the sound of the label and that of Mark Knight for the next five years. The trio's creation, aptly entitled "Into My Life" has served as one of the hallmark tracks of the Toolroom sound. It has spawned countless imitators. Yet, few manage to hold a candle up to the magic that these three managed to cook up in the studio.
Toolroom Fan Favourites.
As you can probably tell, we're quite fond of the art of collaboration…
And, to the surprise of absolutely no one, our fans are too. Recently, we put out a poll to our community, asking them about their favourite collaborations. Much to our delight, their choices highlight some of our most loved records…
Weiss & Christian Nielsen – 'Say It To Me'

Calling upon Balearic influences while tossing in a distinctly old school twist, "Say It To Me" was the quintessential "last track of the night" for nearly all of 2017. Here, you'll notice the sound of both producers coming through loud and clear. There's simply no missing Weiss' patented use of the 909 and M1 Piano. And, while there's really no putting Christian Nielsen in any one genre-based "box", "Say It To Me" fits his heady, driving DJ sets like a glove.
Disclosure & Gregory Porter – Holding On

If there was one record that defined 2015, it would have to be "Holding On" by Disclosure & Gregory Porter. Some records are just fated for greatness. When Gregory Porter, the vocalist behind Claptone's "Liquid Spirit," meets the production prowess of one of the most successful duos in the history of dance music, it became clear that "Holding On" was destined to be a legendary track. That being said, it's worth noting that the boys took a lesson from the prior success of their equally noteworthy collaboration, "You & Me," featuring the vocals of Eliza Doolittle.
Alan Braxe and Fred Falke – 'Running'

Unlike the rest of the tunes that the #ToolroomFamily has voted onto this list, "Running" takes it back to 2000, what many may call a simpler time in dance music: the era of French House. "Running" is not a single track, but a collaborative E.P. between French House pioneers Alan Braxe and Fred Falke. Side A features "Intro," an aptly named tune that features a groove-laden live baseline, a nostalgic vocal, and a delicate approach that takes great care to nurture the subtlety and nuance of a properly done House record. "Most Wanted," on the other hand, is definitely the more banging of the two. Featuring an arpeggiated synth line and just a dash of breakbeat, it is a track that still manages to sound just as fresh in 2020 as it did in 2000.
Mark Knight & D.Ramirez v Underworld – Downpipe 

Released in 2009, 'Downpipe' was a bold statement from Mark Knight, D.Ramirez and Toolroom. A record that took nearly 12 months of pain-staking production, it featured the legendary Karl Hyde of Underworld on vocals – big moves from a label that at the time was only on the start of a journey towards its powerhouse status, and from two producers who were established, but still on their paths towards international recognition.
Disclosure & Eliza Doolittle – You & Me

"Holding On" would not be the first, nor the last time that Disclosure would team up with an chart-topping vocalist. In fact, it was their earlier work "You & Me" that served as the second most adored collaboration from the #ToolroomFamily. A track that could have just as easily been produced in 1999 as 2013, "You & Me" is a broken beat, garage inspired number that has proven equally deadly on the dance floor as it was on the airwaves. Lyrics from Doolittle that tell of love lost made it perfect for yet another creative reimagination from Australian artist Flume. Some might even say that the Flume remix compelled fans to seek out the original. Yet again, we see the beauty in collaboration. It was a fourth creative collaborator that sent this track to stratospheric levels of success.
Martin Ikin & Sammy Porter – 'Back To Funk'

Martin Ikin & Sammy Porter are quite the match if we say so ourselves. While Ikin has been known for years in the underground circuit, Porter occupies a space that is far more mainstream. But, that's not a bad thing, at all. It's for this reason that the two chose the ubiquitous Ultramagnetic MC's acapella "Poppa Large" as the centrepiece of "Back To Funk." If you've been clubbing in the U.K. in the past 20 years, you've heard this acapella, which was first used by Antonio in the iconic tune "Hype Funk." An irresistible Tech House banger that is equally at home on a Shoreditch dance floor at 3 AM as it is on Kiss FM, "Back To Funk" showed the world the crossover appeal of the music we all know and love.
Conclusion: Collaboration is key!

Collaboration has been an integral part of Electronic music since the very beginning. As a music scene that thrives on unity, togetherness, and creativity, artists working alongside one another are crucial aspects of our culture.
We have the art of collaboration to thank for some of the greatest records the world has ever seen. At Toolroom, collaborating is not just a fun way to pass the studio, but rather a way of life. Always pushing boundaries of what our music is capable of, we routinely encourage artists of all genres to get together and make some magic happen. That, my friends, is really what it's all about.